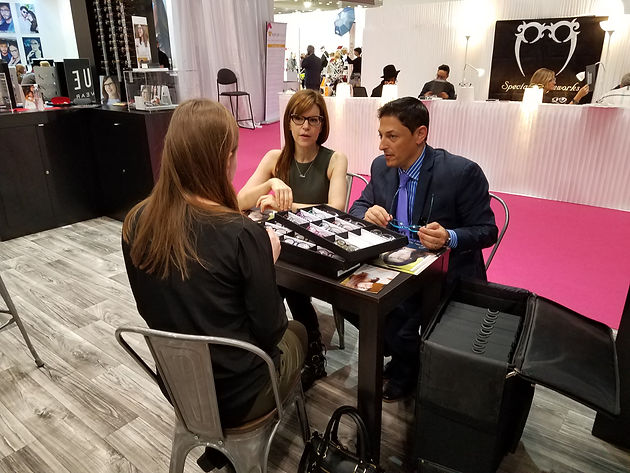 Lisa Loeb, with Classique Eyewear CEO Craig Glasser, shows her Lisa Loeb Eyewear collection at Vision Expo
There are numerous celebrities with eyewear lines represented at the International Vision Expo & Conference/New York, which ends its three-day run today at the Javits Center. But if any others showed up at all, none were as hands-on as Lisa Loeb.
The singer-songwriter/eyewear designer not only showed her new Lisa Loeb Eyewear Fall/Winter collection at the Classique Eyewear exhibition hall booth on Friday afternoon, but actually sat down with buyers and fitted them personally.
As ever, Loeb's new frames are inspired by her signature cat-eye look, and accented with marbleized guitar pics on the temple tips and clef notes on the frame corners that evoke her musical roots. They're also named from her song lyrics—with their color names deriving from her love of food: The past Food Network host (of Dweezil & Lisa, with Dweezil Zappa, in 2004) titled her 2002 album Cake and Pie, explaining that when asked if she wants cake or pie for dessert, she invariably answers cake and pie.
Taking a moment away from her booth activities, she noted that some of her new designs add a "masculine" feel to her strictly (so far) women's frames. Using an espresso Forever frame as an example (the name comes form a lyric in her 2002 song "Did That"), she pointed to its metal bridge as an example of new models that incorporate metal elements into the acetate—whereas previous Loeb Eyewear releases were solely acetate.
"Some people perceive me as soft and quiet because of the tone of my voice in some of my popular songs," said Loeb, who always radiates an ever-smiling, warmly approachable demeanor. "I sound that way, but I'm not a really soft person: There's a lot of strength to me and my outlook on life, and I like to capture that in my glasses as well. So I tried to bring in a slightly masculine feeling to some of the frames, because being feminine doesn't mean that you're not strong."
The metal hardware, then, provides a "strong structure," added Loeb, who's also playing with larger frames this year, and on models like Prophet (from her 1997 song "Wishing Heart"), a trendy keyhole bridge. The new models, though, retain her trademark cat-eye lift.
Meanwhile, Loeb, who lives in Los Angeles, will return to New York for a two week residency at Café Carlyle June 6-17. With musician/author David Newman, she'll also lead a three-day Life as a Work of Art—An Exploration in Creativity workshop at the Omega Institute in Rhinebeck, N.Y., Aug. 11-13.
Loeb says she's also working on a new "adult album," meaning one for grownups as opposed to her most recent children's music projects.
Please reload
Click on January 2019 to access earlier months