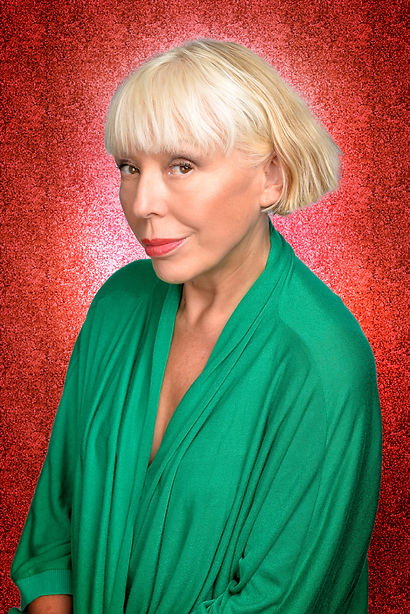 Barb Jungr (Photo: Steve Ullathorne)
Barb Jungr last year gave the Association of Performing Arts Professionals (APAP) conference attendees a taste of her Float Like a Butterfly exploration of songs by Sting, and now, a year later, the Internationally acclaimed British chanteuse is  at New York's 54 Below tomorrow night fleshing them out further with prolific Grammy and Emmy award-winning pianist/composer John McDaniel.
After a brief U.S. swing to perform their celebrated Beatles collaboration Come Together (Austin on Jan. 25, St. Louis on Jan. 27 and Chicago on Jan. 28), she and McDaniel will commence recording Float Like a Butterfy (the title, of course, coming from Muhammad Ali's famous "Float like a butterfly, sting like a bee" slogan) as its follow-up, for summer release on her Kristalyn Records label.
"We're now two-and-a-half years collaborating----therefore it's deeper," says Jungr. "You just know what the other person is doing, and trust each other more and more. And John is such a wonderful, wonderful musician, with credits par excellence: so many Broadway shows, and most recently orchestrating Lights Out: The Nat 'King' Cole Story. He does extraordinary work and brings it to what we do—and is such a great complement to me that I feel very enriched by."
Jungr and McDaniel have U.K. gigs in February and March variously devoted to Sting, The Beatles, and previous Jungr album specialties Bob Dylan and Leonard Cohen.
"I do it all the time!" Jungr says of transitioning, seemingly abruptly, between such esteemed but different composers. "But I love it. It keeps my brain working, my synapses jumping!"
But Jungr, who also has a July booking at Joe's Pub in New York and will be back in the States touring Float Like a Butterfly in November, is for now most excited about the Sting project.
"John and I are really moving forward," she explains, and it was McDaniel, in fact, who suggested that she explore Sting as a contemporary songwriter at the annual Cabaret & Performance Conference at the Eugene O'Neill Theater Center in Waterford, Conn., where he is artistic director and she serves as master instructor. She soon realized that Sting was the wide-ranging kind of songwriter, "relentless in his own trajectory of learning and exploring ideas," that she can embrace as an interpreter.
 Barb Jungr and John McDaniel perform "Every Little Thing He Does is Magic"
Please reload
Click on January 2019 to access earlier months