Senon Williams at his Auxiliary Projects opening reception
Best known in music circles as bassist in the Los Angeles-based Cambodian rock band Dengue Fever, Senon Williams in 2017 had his first book of artwork, Hunted & Gathered, published via Hamilton Press.
The 208-page hardbound book featured 129 ink-on-paper paintings juxtaposed with minimalist text, characterized by pop art printmaker Ed Ruscha as "picto-thoughts, with all their doom, hope and meaning," that compiled into book form made for "a new kind of novel."
Author/publisher Tosh Berman likewise labeled Williams' work "Kafka-like," and his book "a trip through a landscape of what one could call classic existential issues," where "humor and despair are blood brothers."
Williams, who has long exhibited his art in group shows, had his first solo show in L.A. four years ago at a clothing boutique, and sold 40 pieces. His first New York solo show began Saturday night and runs through June 29 at the Auxiliary Projects project space in Greenpoint, Brooklyn.
Titled Modern Safety, the show consists of ink-on-paper or ink-and-acrylic-on-paper pieces, breaking into four large framed works (18 x 24 inches), one 41 x 61 piece, 10 paintings mounted inside 8 ¾ x 14 ¾ x 6 diorama-like wooden boxes, and 43 5 x 5 drawings displayed in a grid on the rear wall of the box-like space. All are untitled, though they're informally identified by corresponding text.
The show's title, for example, comes from one of the box pieces, in which what appears to be a forest of orderly-spaced blue trees is ominously bordered on each side by black trees, some upside-down, some toppling upon the blue ones, with the words "MODERN SAFETY," in all caps (same as the rest), offering an ambiguous commentary—perhaps: Williams has said that his artwork is "open-ended" and "means whatever you want it to mean--like taking little tidbits of thought, that were either sought after or were just kind of filtered into my net, and making a record out of them. And there are never answers--I'm not really interested in answers with my artwork. Just questions."
At the show's opening reception Saturday evening, the artist distinguished between his artwork and his music.
"Being in a band is collaboration," Williams said. "It's fun to be autonomous, and leaves me room to create on my own!"
Having no desire to be a solo musician, he noted that his artwork satisfies his need for creative freedom, and said that even after publication of Hunted & Gathered, he was hardly "running out of ideas." Rather, he's obsessed now with his art, and more deeply focused on it—one result being the introduction early this year of his new wood-box diorama format, which he calls "a drawing in a box."
All the inner surfaces of the boxes, which are also constructed by Williams, are covered by a single painting, such that he has had to cut out 5 x 5-inch squares out of each of the corners of the original  26 ¾ x 20 ¾-inch  paper sheet in order to be completely inserted into the boxes. Those squares, then, become the small drawings ("donut holes," as Williams calls them) that were on display on the rear wall grid.
"It's a little more intense means of viewing a painting," said Williams. "It draws you in: You have to get closer to the painting and almost stick your head into it in order to engage with it and figure out what it says. The words are there for the viewers to unfold their own stories."
Williams was reluctant to single out any of the exhibition's pieces as particularly representative of his work.
"If you're familiar with all of it you have a better understanding than knowing just one piece," he said. But he has stated that "the general purpose of my art is to leave it open-ended, so it could mean a lot of things. But the simplest way of putting it is that it manifests my collective thoughts—and there are never answers: I'm not really interested in answers with my artwork—just questions."
He did discuss one of the boxes, referenced in the Auxiliary Projects program as "NASTY LEVERAGE," since those words are in the center of the piece's main center pane, in the middle of two partly raised bridge sections, water beneath, stormy sky above. The two side panels extend the image, the left one also showing the words "ODD PRINCIPLES," the right, "BUDDY HUGS."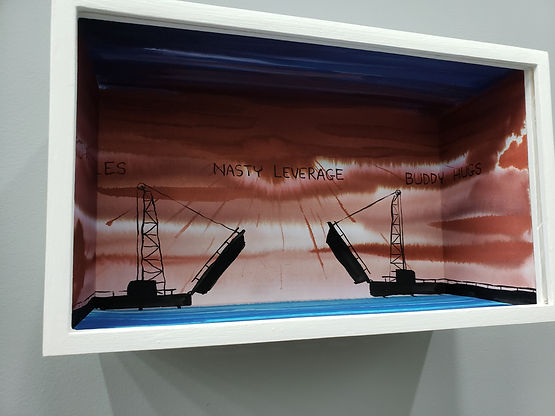 "NASTY LEVERAGE"
"They could be the tagline of a movie," said Williams, "but the words really say all that I want to explain about the painting. I do not define my paintings--if I did, it would be the absolute definition. But they mean something different to me each time I ponder them."
Williams did say that the phrases were "polar opposites," acting as "a springboard for a story you get to tell yourself." Regarding the bridge, "It allows you through—or someone else allows you to enter."
Meanwhile, the wall of his small format water color "donut holes" offered an array of miniature Williams aphoristic pictorials. These included four versions of a sheet of yellow lined legal paper, one with the words "HIDDEN FORTUNE," another with "MAN IN HIDING," another with "HE LIKED TOP 40 BUT WASN'T POPULAR" and "SHE LOVED EVERYTHING OBSCURE AND WAS EVERYBODY'S FAVORITE," and another with "WOMEN HATED MORE THAN BLACKS."
Among the others were a picture of a mountain valley with "NO MORE DEATH THAN USUAL," a mountain pond with "FOND" in the water, and the words "NO MAN" standing upon brownish ground.
 Grid display of Williams' "Donut Holes"
"I'm definitely affected by what I hear and see every day," Williams has said. "By looking at headlines and dates, there's a progression and narrative that shadows current events."
Auxiliary Projects co-director Jennifer Dalton first knew Williams from his music, but was "blown away" by his book.
"I like text-based art," she said at the reception, "and the way that Senon's makes sense and doesn't make sense at the same time. His work is evocative without representing anything recognizable: It makes sense on an elemental level that's also aesthetically outstanding."
As for Williams' music, he said that Dengue Fever has a new album in the works.
"We've gone back to the original idea of being in the band: Have a good time and make a good record," he said. "We're trying to travel to the farthest place possible while having fun instead of going crazy."
 Dengue Fever in concert
Please reload
<div id="comp-itgisv21_ArchiveList_Option__0_0_28_0_count_default" style="position:relative;display:block;-webkit-box-orient:vertical;-webkit-flex-direction:column;-ms-fl